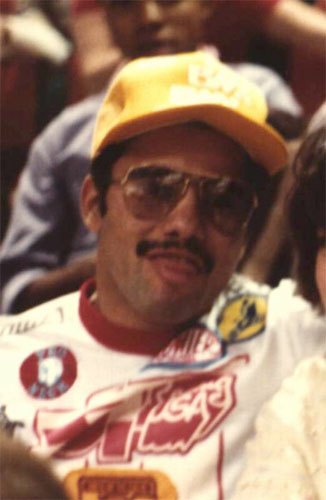 As a kid we are influenced by the individuals around us without even realizing it. In my earliest memories of BMX, one name stands above all others and that is Charlie Litsky. Immortalized by the Great Oz in BMX Action. He was my first realization that someone from NJ could be well known and sponsored in my hero looking eyes. Riding at the time on Mongoose (my first real BMX bike) he seemed to me to be the guy who defined BMX. It didn't hurt things either that him and his crew were featured on our local Channel 13 station promoting his local trails and Craigmeur race track.
He'd always be wandering around Braddock BMX or The Jersey City Armory, smile fully in effect doing everything he could to promote BMX. Whenever he was up in the announcer tower doing his thang of making racing sound like the most amazing thing in the world you knew you were watching a guy doing something he truly loved. His influence as an ambassador to BMX influenced me to always do whatever I could to push the sport into the eyes of other people, whether it be riding, announcing or just chatting people up. When I left racing and became heavily involved in freestyle, I always kept an eye on the race scene and it was a very sad day when I found out that Leapin' Litsky would no longer be rocking the mic or pedaling a bike anymore…almost surreal that a person who I idolized as a kid was gone.
I always keep a little of that Litsky NJ BMX'er in me when I'm up on the announcer tower or helping some new kid get his bike dialed in for racing or jumping. This page will be filled with the memories of some of the people who's lives Charlie touched. Thanks for taking the time and being always and forever 100% a BMX'er for..ever.
Ride on Leapin'!
Perry Kramer – "Legend"
Leapin' Charlie Litsky was a class act! For sure he accelerated BMX racing in the northeast. I got a few Leapin' stories, but I'll just post a few for now.
I first me Charlie in 1978. Stu, JU, and myself just finished fixing up the new tan SE van and our first stop was Craigmeur, NJ for the NBA east coast national. Charlie made sure we stayed at his house and even though we pulled in at something like 11:00 at night we took a drive into New York to check it out. Stu even drove the brand new van throught the streets of Harlem that night.
In 1980 I set up a BMX clinic tour that featured Toby Henderson, Jeff Bottema, Carl Grenner, and myself. We traveled the whole summer putting on BMX schools and racing NBL & NBA Nationals. Again, Charlie made sure we stayed at his house. He even "loaned out" his girlfriends to us! We pull up and he introduces us to "Charlies Angles". I can't go into any more detail but rest assured we were more than happy to accept his (and theirs) hospitality. When we left he got them all back and took care of business. Charlie was a great man.
It was very ironic that he died of heart failure. He had the biggest heart of anybody I knew. Long live Leapin' Litsky!
PK
Stu Thomsen – "Legend"
PK, That night we met Charlie. Driving the streets of NY. racing taxies. Those were great memories.
Greg Esser – "East Coast Legend"
Charlie was truly one of the sports real pioneer's and I am glad to say he was a friend.
PK is right that it was so ironic that he passed away from heart failure, because he did have the biggest heart.
I first met him in 1976, he came here to Fl to race. He flew down and we picked him and Wild Wayne McFarquar up and headed to the west coast of Fl to race at Wall Springs. Five hours later we arrived and we could finally take a break from laughing so much on that trip. That was how Charlie lived, always smiling and having fun. Where ever he went or stayed he would always find some girls and he would sport them around and introduce them as Charlie's Angels or Chuck's Chicks.
A class guy through and through.
Mike Lynch – "80's SE Factory Ace"
If you were from the East Coast, Charlie liked you! It was that simple. If he really liked you, he would give you props when on the mic and maybe a nickname or two. If he could not hook you up with some product, he knew who to call to get you hooked up. He had a way with words. If you were from the East Coast and raced BMX in the 80's then you knew Charlie. If you didn't, well, you will get a chance to meet him later because I know he is running a track just inside the Pearly Gates as we speak. Thats how I see it! Godspeed Charlie–I know I miss him.
Jeff Utterback – "Legend"
Oh yea! Charlie was a great guy. his house was totally cool, lots of great asian art and stuff I was afraid to touch let alone get near.
The harlem night was insane…at least the way I remember it.
I'll spell it out this way.
1. Dodge van, California plates.
2. Blonde driver.
3. Sketchy directions so they need to ask for some amidst the burning abandoned cars…
4. California plates.
5. Blonde driver.
Even that tour Charlie had at least 2 hotties around…
Byron Friday – "Legend"
That guy was one of the coolest & funniest guys I ever met.
Mark Lopez – "Top NJ Racer"
Since my BMX roots go back to the days of the NBA in Craigmeur N.J. I knew Charlie very well. We had a special bond that was almost like a tight knit brotherhood from N.J. Charlie, my family, the Shakels, the Perrino's, the Echals, and a few other family's were staples at every N.J./N.Y. N.B.A. race in the early days. Charlie always treated me so good. When he was announcing at a national and usually only announced the pro's……..he would go grab the mic. If he saw me or another Jersey rider he knew he would pump us up as much as possible. It was like having the best agent in the biz. for free! Everbody sat up and paid attention when Charlie announced and if he made a big deal about you it definitely got the attention of everybody.
When he was a rep for Carrera at the races in "82" he came over to me at a race a put 3 pairs of goggles , 2 face masks, and some stickers and patches in my helmet bag and said "let me know if you need anything else". Charlie was one of a kind and helped N. J. become I legitimate spot on the b.m.x. map in the late 70's. It's still hard for me to believe Charlie is not with us anymore………rest in peace my friend.
Justin Shepard – "Top NJ Racer"
Charlie was awesome. I remember him announcing the first NBL National I ever raced. He came over to me one time and knew my name. I was pretty amazed. He asked me how long I had been racing and showed real interest in me and my racing. I never forgot that. He was one of the first guys to tell how happy he was for me on getting a factory ride. Made me feel real good. He was great guy that I will never forget.
Jud Ciancio – "Top Racer"
Charlie always hooked me up with racing product, maybe it was a pair of Carrera goggles or something from his personal Oakley stash. He always made a point to announce that I was from the East Coast kicking some West Coast Butt.
I also had an oppurtunity to race some West Coast Mountain Bike races in the Early 90's and Charlie would hoot and holler about me every lap I came around. I loved that guy, wish there were more like him. I often think about Charlie at the Jersey City Armory making me laugh, it always brings a smile to my face.
John Mcniel – "Top Racer"
Charlie was a great guy – Always full of life. It was always good to see him in the announcer's tower
Scott Towne – "Racer, Editor BMX Plus"
Charlie and I were very close during my time racing and even when I retired from the sport. I have many letters and some pictures to add to your page. I need to get busy scanning as I have thought about sharing some of the stuff he sent for a few years now..
Johnny Johnson – "Legend"
I never met Charlie, but remember seeing him occasionally at a few nationals.Without ever speaking to him, his charismatic personality was very obvious.
Brad Dalbec – "Top Racer"
Charlie was a blast…what a character.
Over the coming months, I hope to add more and more "Leapin' Litsky" memories and photos.
Deanna has mentioned she has some great stuff to share and I think it will really be excellent to see how personally Charlie touched people's lives.
Thanks Charlie for getting the great sport of BMX rolling in NJ.